James Tilly Matthews, architectural plans and explanatory notes for Bethlem Royal Hospital, 1810-11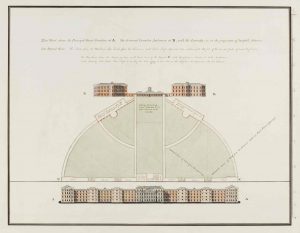 In a radical exhibition, an arching history of the treatment of the mad at Bethlem Royal Hospital, also known as Bedlam, forces us to review how future treatment should be.  Within this the Madlove project, led by people with mental illness, suggests a rethink of the asylum as a place of genuine refuge for today's mad.  Somewhere to rest, recharge and express self with others, or alone.  The concept of seeking asylum to dissipate illness before crisis hits, without the need for chemical coshes, locked cells or high security fences appeals and is much needed blue-sky thinking.
I recently presented at the Design in Mental Health conference, and met suppliers selling hospital beds and so on by way of videos of burly men smashing the living daylights out of them, without causing damage – as proof they were of an appropriate standard.  Elsewhere, snatched in a conversation with an occupational therapist in a medium secure unit, she expressed dismay at how the unit paved over the grass in their courtyard as it was deemed a risk and contravened regulations.  Is this how we have come to view the insane?  A rethink of how we care for the mad really is long overdue.
Photo courtesy of Johnathan Stokes, Bethlem Museum of the Mind