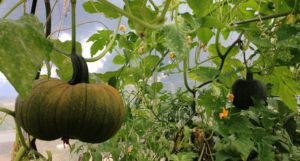 'Entering the polytunnel is like stepping into another world. Its like going through Mr. Ben's dressing room door'. Thomas, community gardener.
What is it about polytunnels? Or greenhouses, sheds and other-worldly outdoor dens? Traditionally the sanctuary of 'im outdoors, the hen-pecked hubbie in the 1970s mind-set of The Two Ronnies. But everyone enters the polytunnel with a sense of occasion and excitement, I notice. Maybe it's crossing the threshold slowly and purposefully, the heightened temperature, close atmosphere and intoxicating scents that bring everyone firmly into its clutches. Time to stand and stare. Peer at the delicate seedlings, stroke a hairy leaf, inhale the green aromas. It feels safe, womb-like, removed from the challenges of the world. It also brings us close to what we have forgotten, whether it is the immediacy of neglected seedlings needing a drink, or more fundamentally, our roots as biological creatures. It still is also – as was – a place of escape and fantasy. Here we could dream of 'what if' in our lives, step like Mr. Ben into a new life and adventure, to return back to the outer world refreshed and restored. And because of this restoration, it is a place of finding creative solutions to problems, the 'a-ha' moments when we make new connections in our brains like Archimedes in his bath.
Thomas told me he has started dreaming about entering the polytunnel at the community garden. It has slipped into his sub-conscious, where he plays out other parts of his life while he sleeps. And while he potters in it at the community garden, he is in charge of how to be in there. That is the power of polytunnels, and of gardening.
Photo © Bandstand Beds, 2017